Goodnotes

Goodnotes

Goodnotes

Goodnotes

Goodnotes

Goodnotes
The world's first AI-powered digital paper company, forever improving how people create, learn, work, and take notes.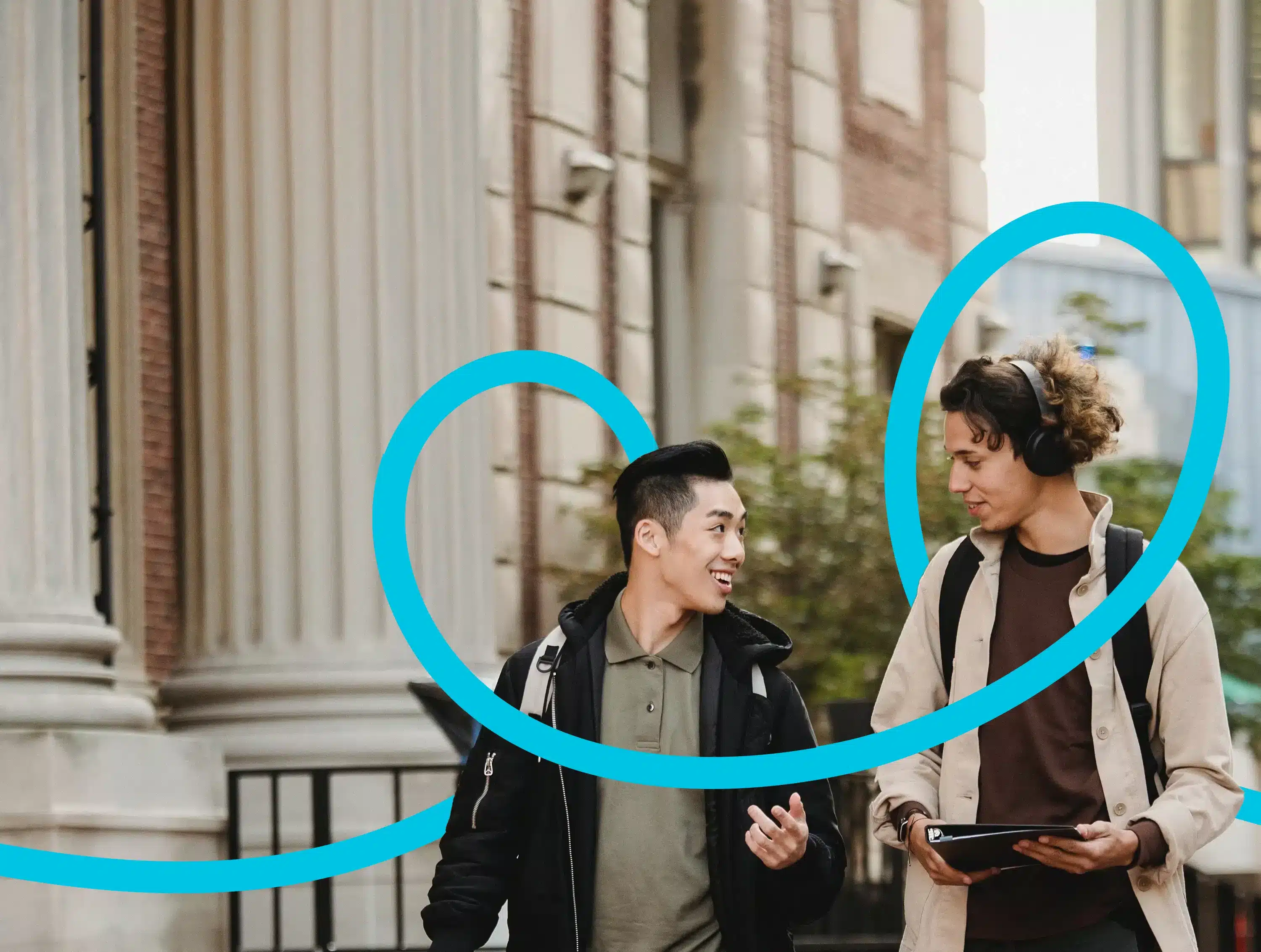 Say hi to the new Goodnotes.
Goodnotes is the world's first AI-powered digital paper company and learning ecosystem, with over 21 million monthly users worldwide. Gearing up to launch the much anticipated Goodnotes 6, our work focused on aligning business strategy with brand strategy and creating a brand voice, visual identity, and launch campaign that celebrates the joy and journey of life-long learning.
(Details)
Type

Rebrand

Category

Edtech

Model

B2C
A strategic transformation from note-taking app to digital paper ecosystem.
In 2011, Goodnotes started as an improvement to physical paper notes with the ability to take handwritten digital notes, search handwritten text, and organize everything into a digital library. Now, Goodnotes is pioneering generative AI for digital handwriting and its applications in education. The Goodnotes rebrand and release of Goodnotes 6 is the next big step in delivering Goodnotes' long-term vision of making technology-fueled learning accessible for all.
Idea Worth Rallying Around®
Feed Your Mind

Feed Your Mind

Feed Your Mind

Feed Your Mind

Feed Your Mind

Feed Your Mind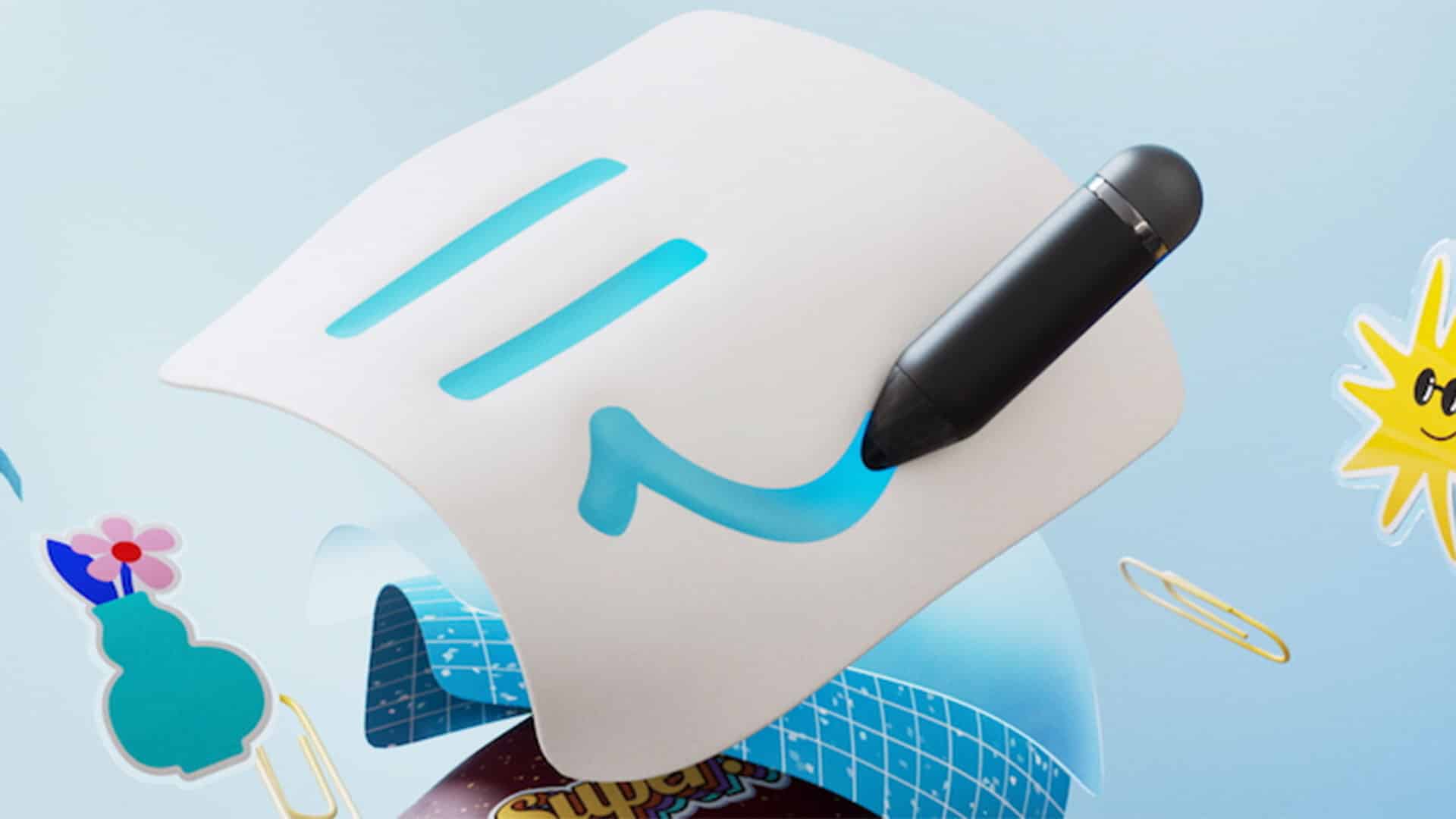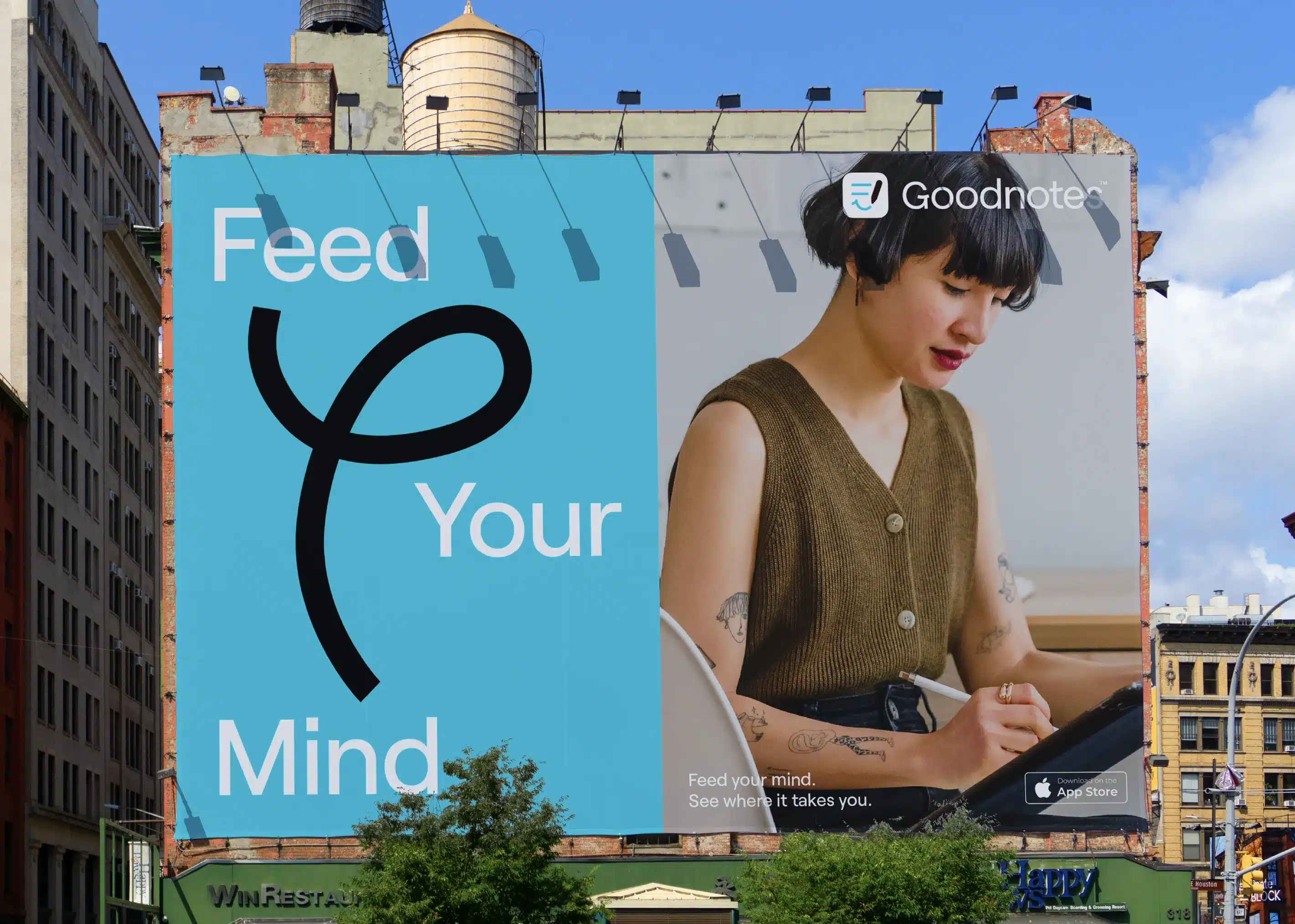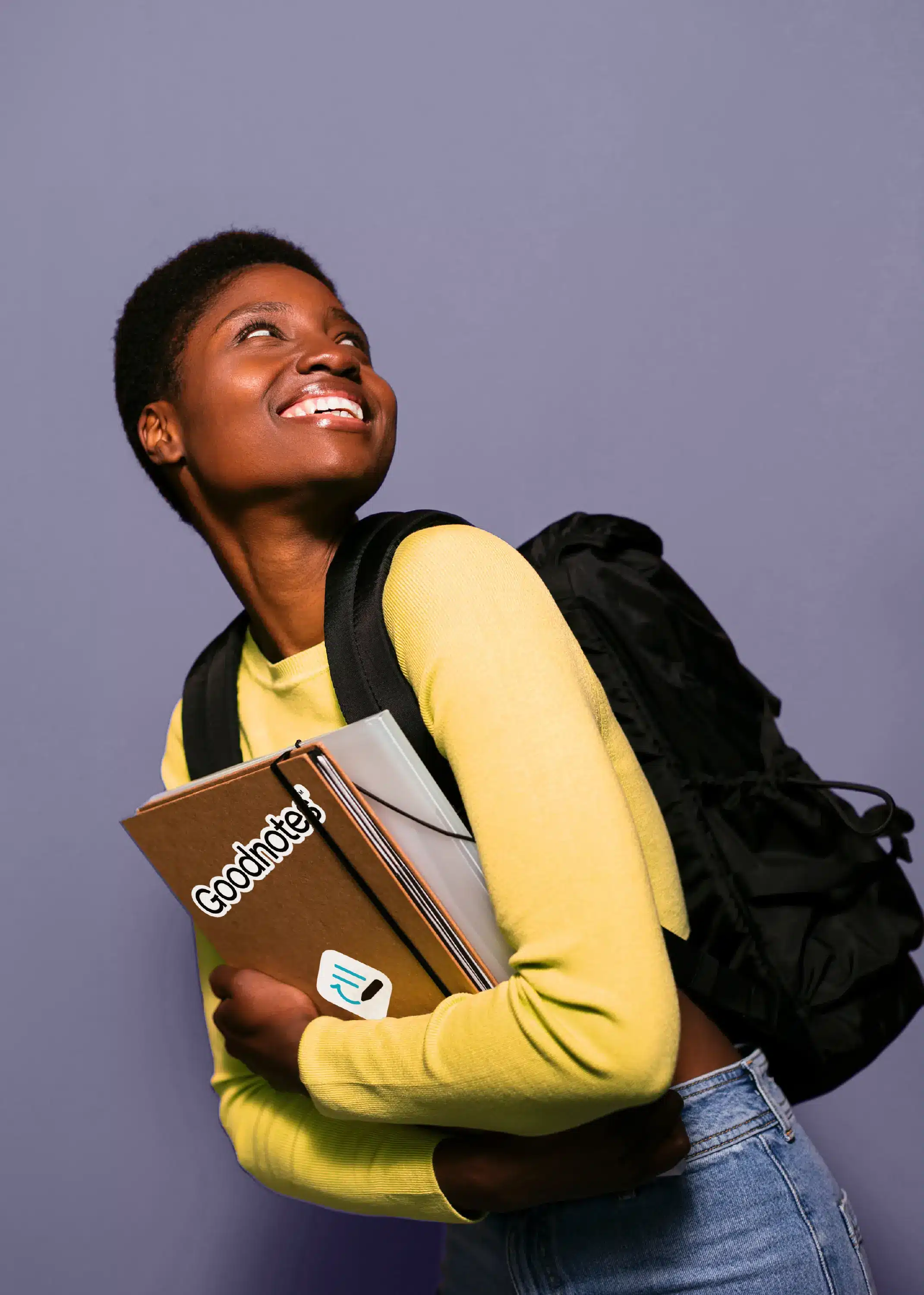 (03)
Motto Method®
/ Immersion
Big visions need deep immersive thinking.
Goodnotes has an ambitious vision to revolutionize how people learn, create, and take notes. We worked closely with leadership to dive deep and understand the nuances of their vision, company culture, business goals, user community, and brand opportunities. Honing in on the strategic foundations provided company-wide clarity and internal confidence in the rebranding process. Powerful themes around joy and learning surfaced as central emotive ideas.
(WHAT WE DID)
Stakeholder Interviews
Expert & Influencer Interviews
Strategic Workshops
Brand Audit
Competitive Audit
Social Listening
"I had spine tingles. It's amazing to see our strategy come together into such a cohesive and inspiring narrative. "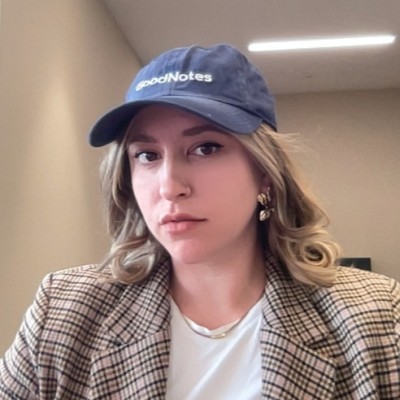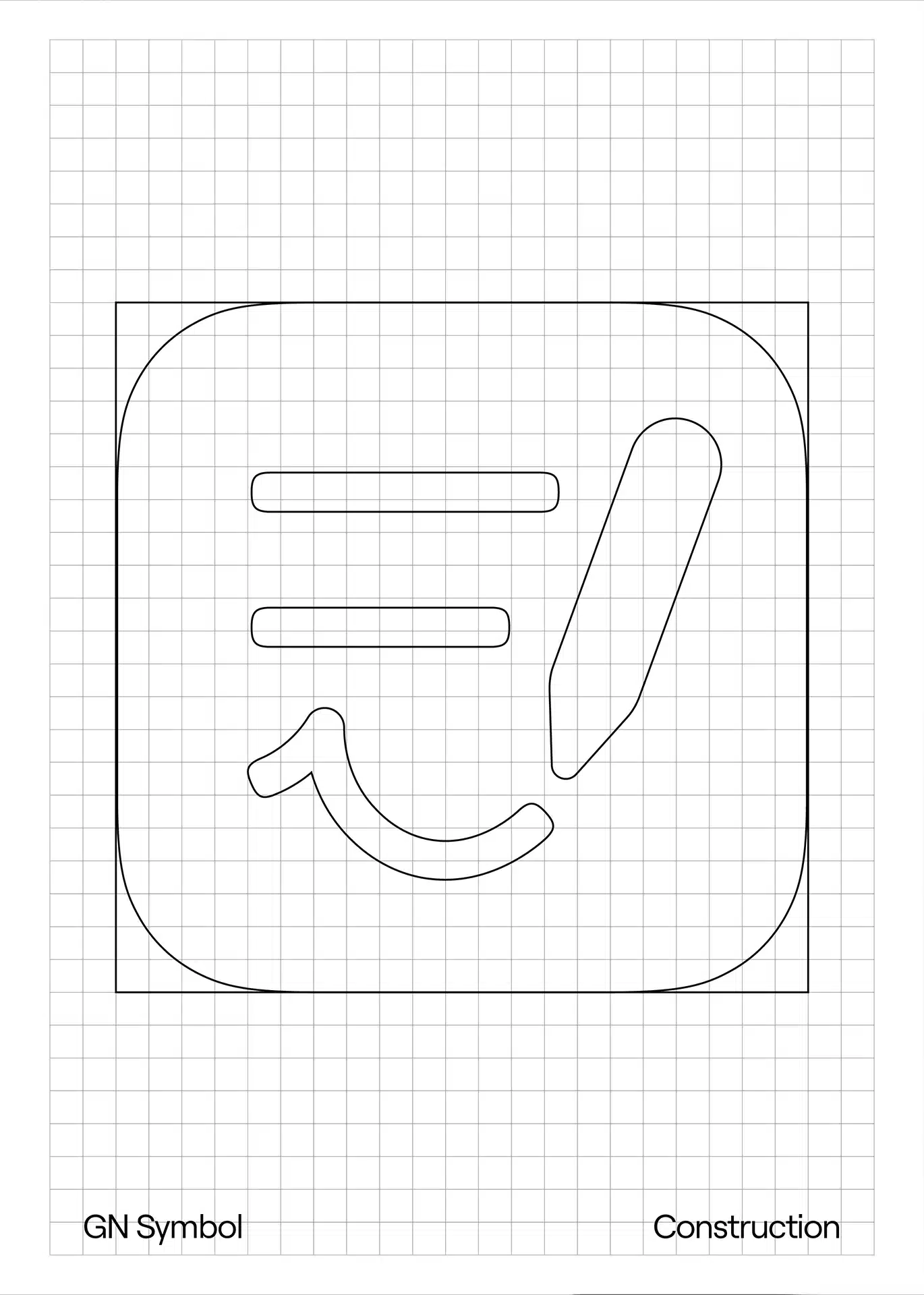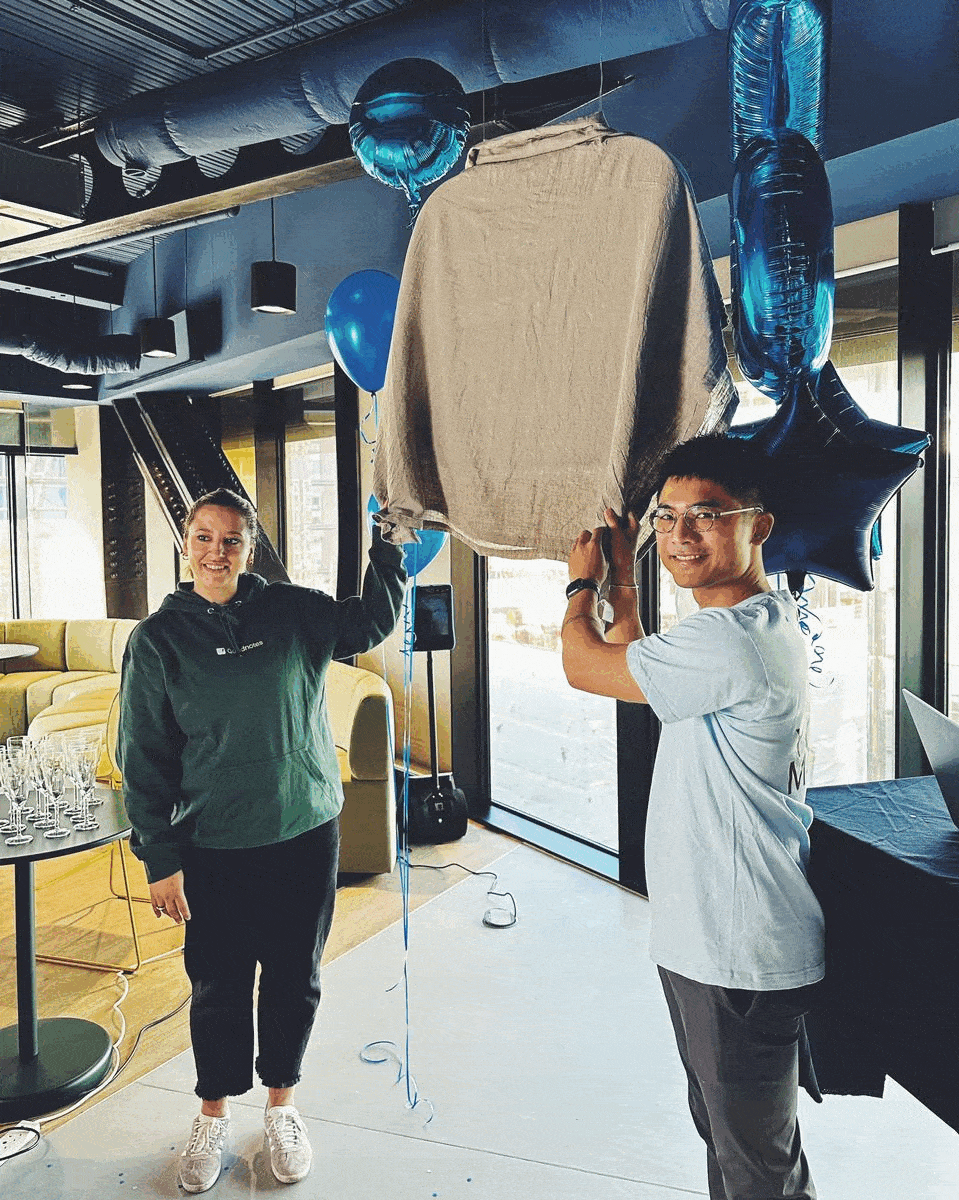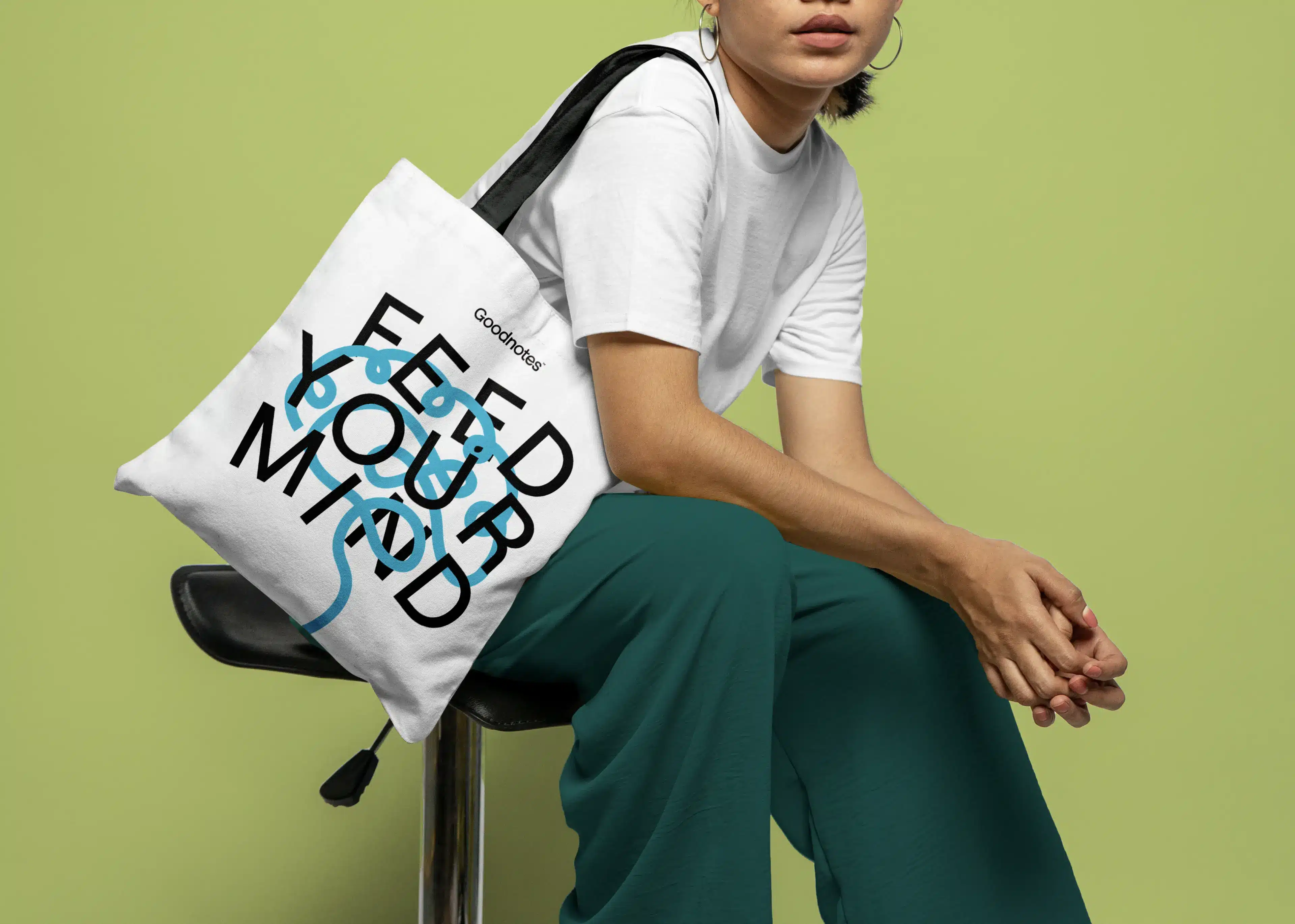 (04)
Motto Method®
/ Brand Strategy
Take note of the future.
"The joy of learning" inspired our strategic, verbal, and creative work. Instead of focusing solely on the product tech and features, as incredible as they are, we connected Goodnotes to this deeper meaning which gives the brand more emotional territory to play in. Our strategy led to a clear understanding of Goodnotes' central 'Sage' archetype, helping to define the brand and lay the foundation for the identity. The outcome was a big Idea Worth Rallying Around® that powerfully united internal and outward-facing audiences and activities.
(WHAT WE DID)
Purpose and Vision Language
Core Values
Audience Persona
Idea Worth Rallying Around®
Strategic Narrative
Positioning Statement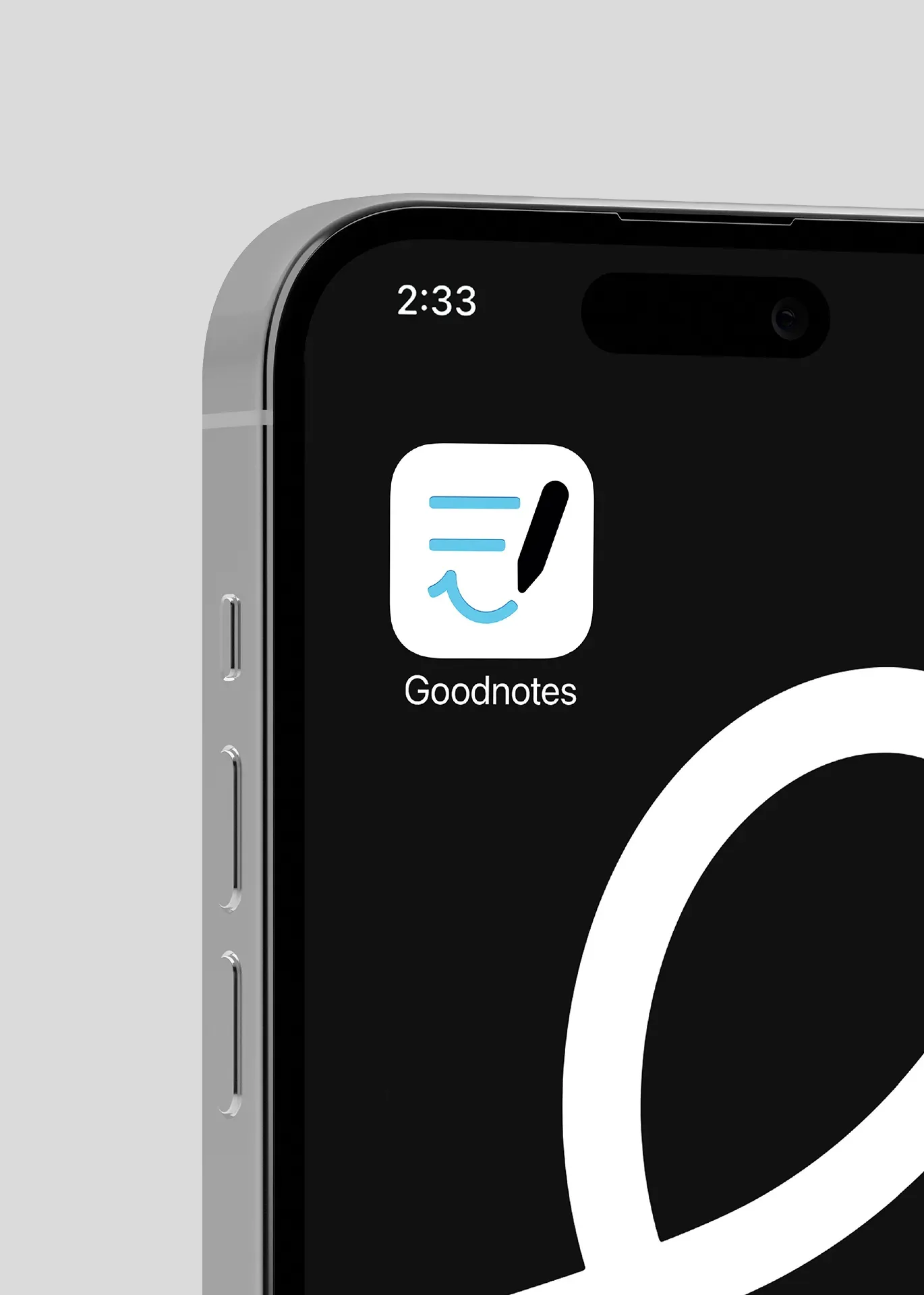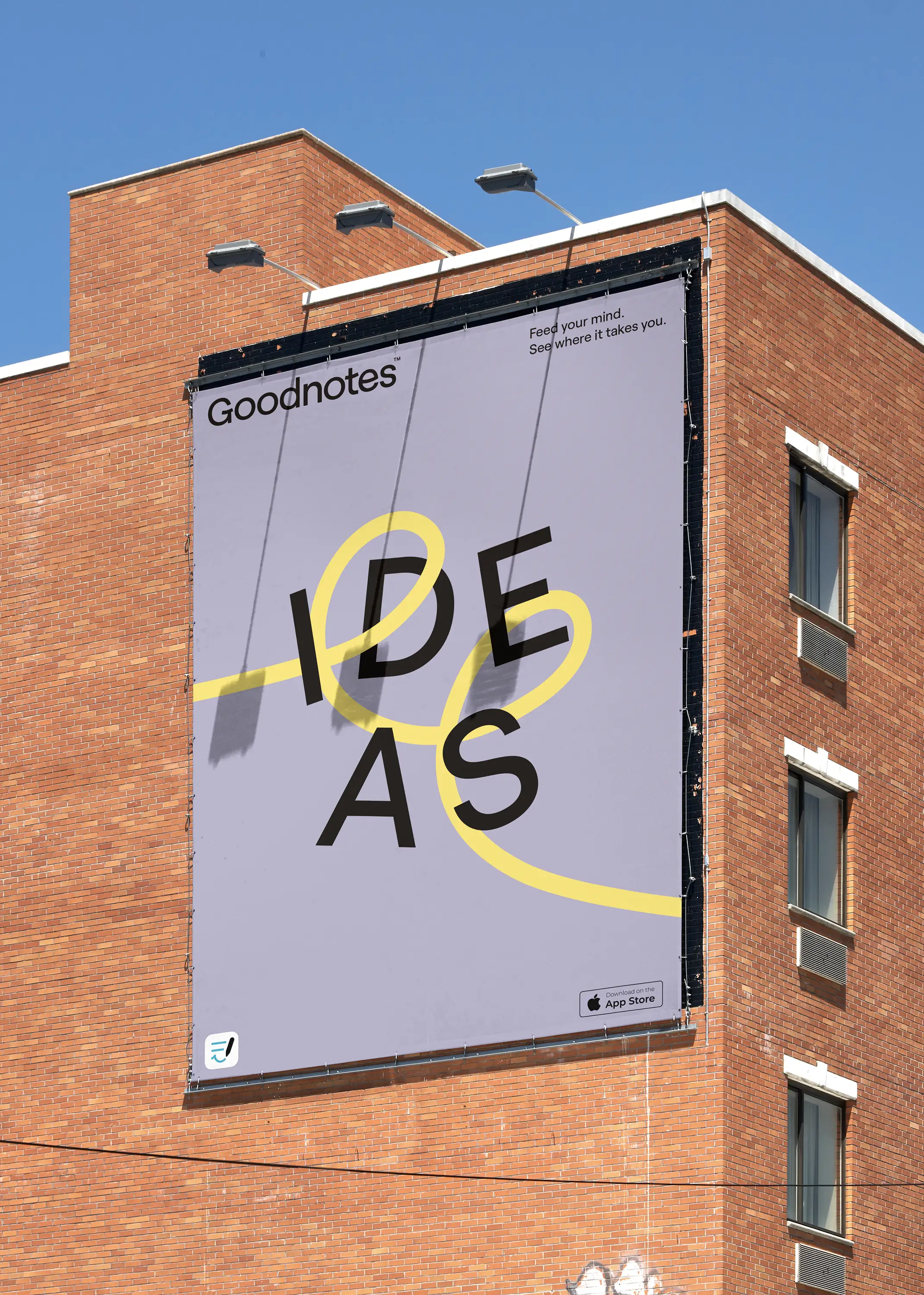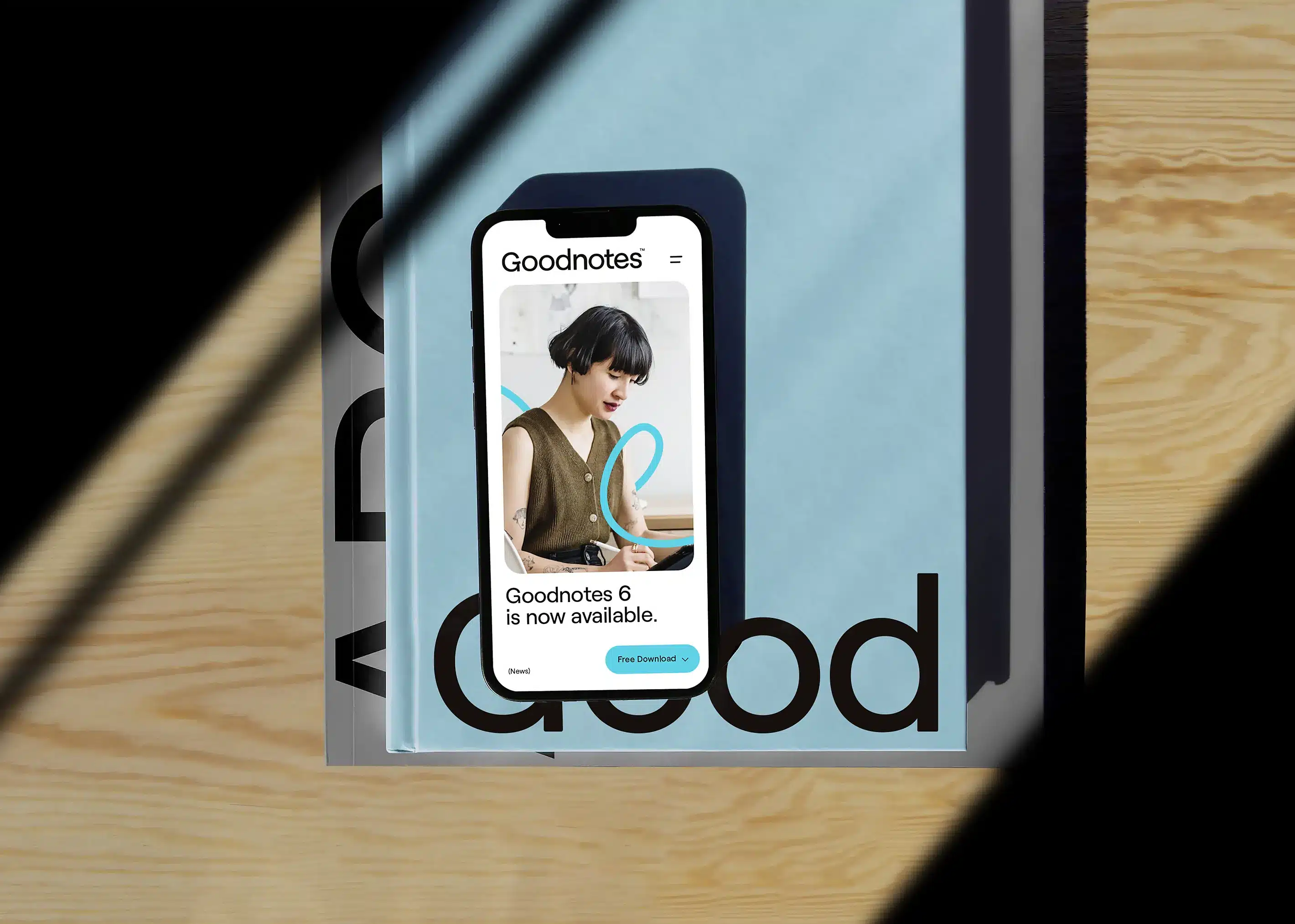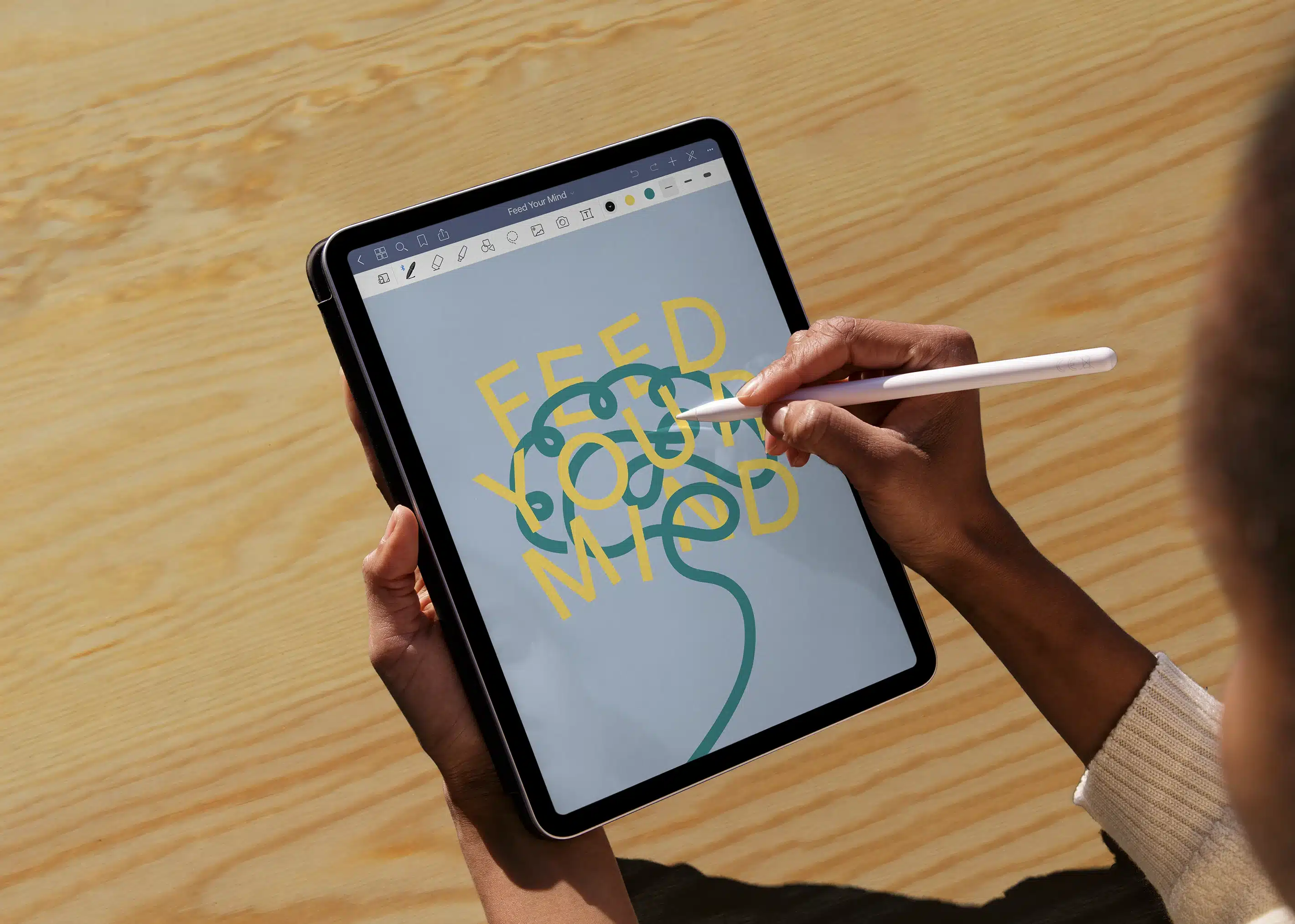 (05)
Motto Method®
/ Verbal Identity
A noteworthy voice for noteworthy messaging.
Goodnotes' new sage-like voice persona is anchored on the pillars of curiosity, empowerment, and joyfulness. This joyful touch ensures learning with Goodnotes is anything but mundane, keeping the spirit of learning vibrant and alive throughout the messaging. Our work included comprehensive verbal guidelines to demonstrate the best ways to talk about the brand. Goodnotes' voice now speaks with purpose and authenticity, forming stronger connections with its audience and fostering a true sense of self-expression for its users.
(WHAT WE DID)
Voice Pillars
Voice Persona
Key Messages
Signature Phrases
Message Library
Brand Manifesto
Word Kit
Verbal Guidelines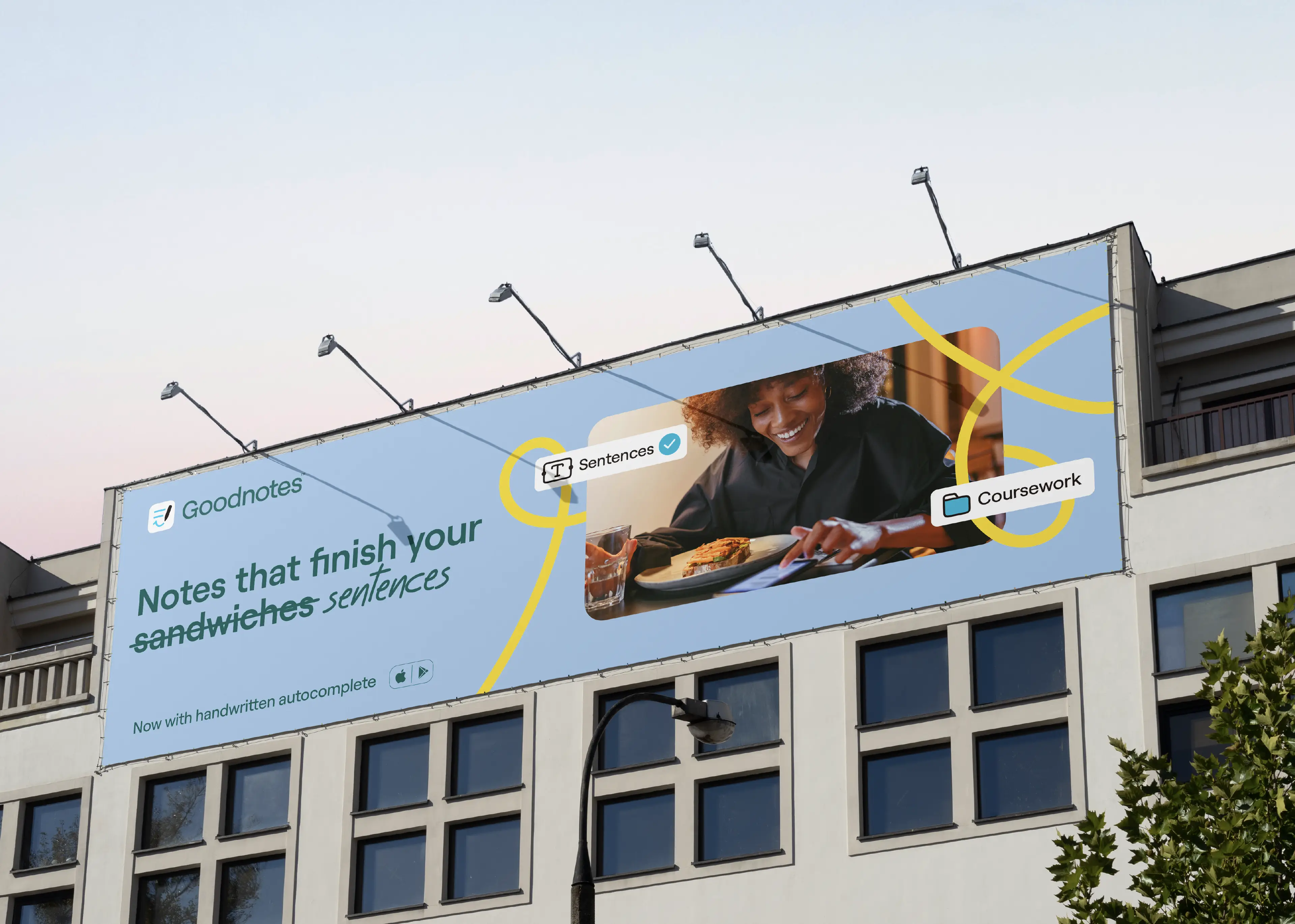 (06)
Motto Method®
/ Visual Identity
Unlocking next-level visual expression.
The next big opportunity was to reimagine the design language. We faced the classic challenge of evolving the old logo while keeping the brand recognizable. We maintained recognizable and beloved aspects of the original brand, taking cues from the old symbol and primary teal brand color. The design updates include an updated symbol with a "smiling scribble" (designed by Jonathan Mak), which complements the smiling letters of the new wordmark and reinforces the joyfulness of the whole system, bringing to life the very essence and personality of Goodnotes in a fresh way. A symbolic journey line weaves fluidly throughout the system to reinforce the concept. Just like the journey of learning, this line remains ever-evolving and imbued with life.
(WHAT WE DID)
Vision Boards
Logo System
Type, Color, Grid System
Art Direction
Digital Brand Guidelines
Motionography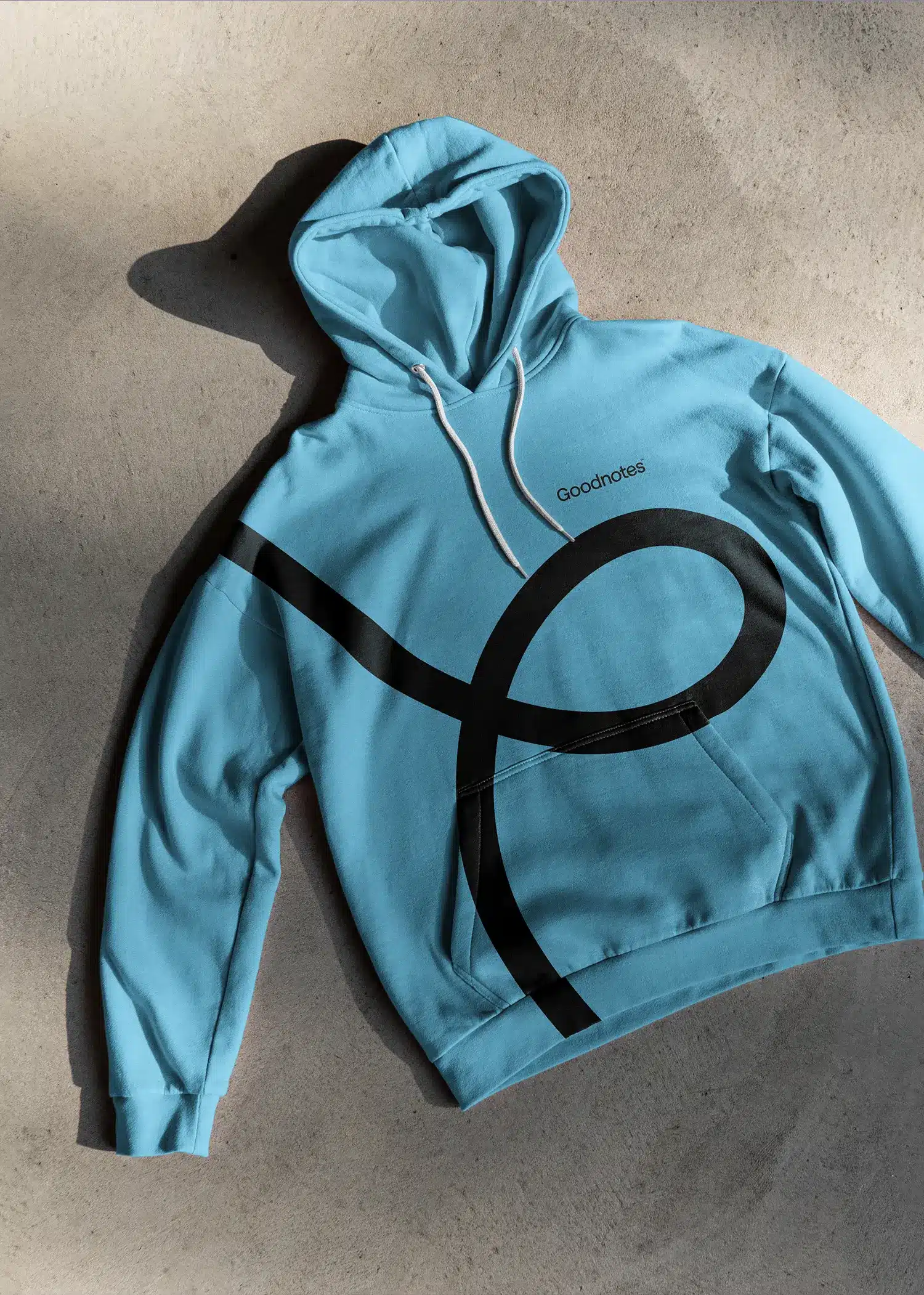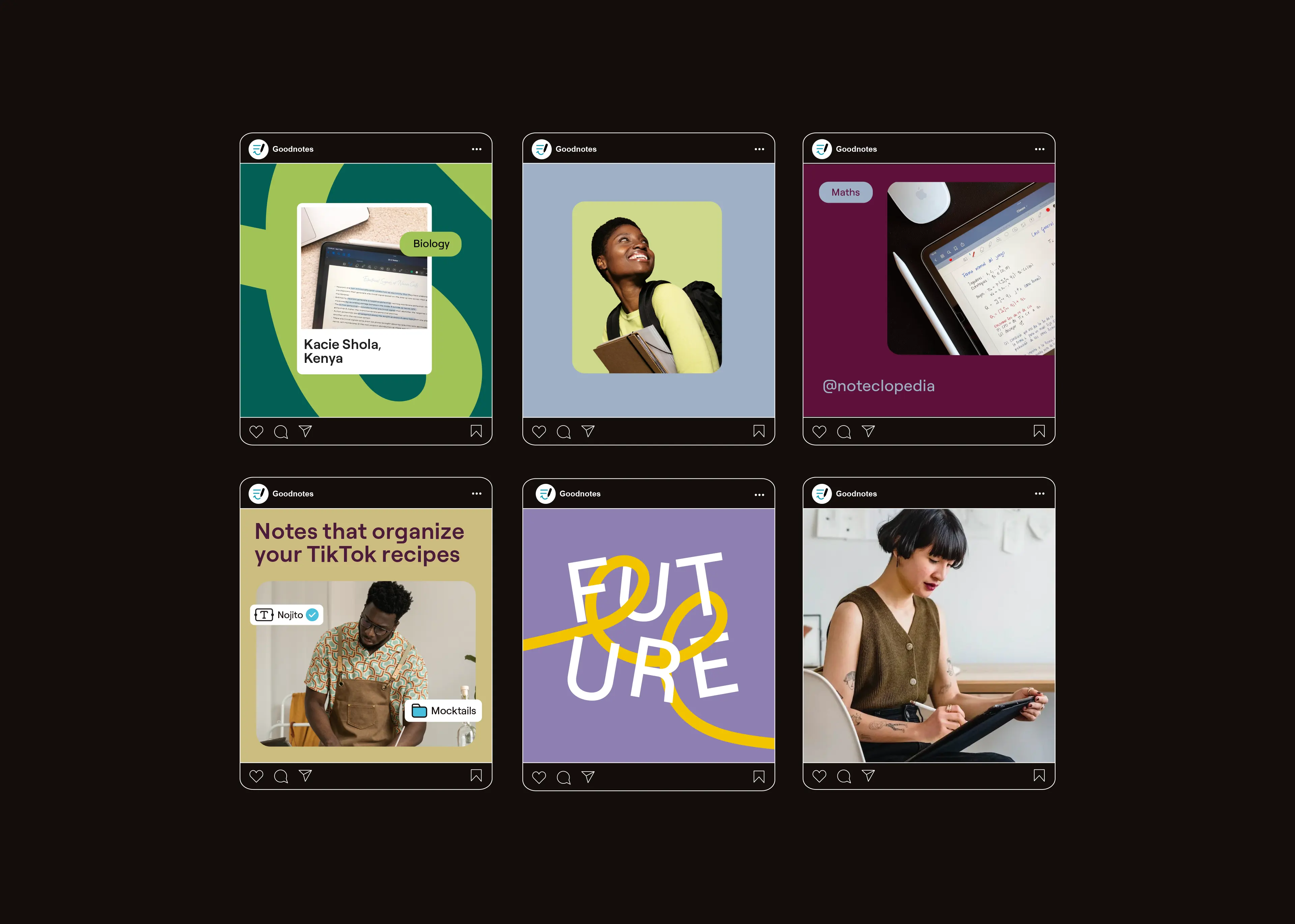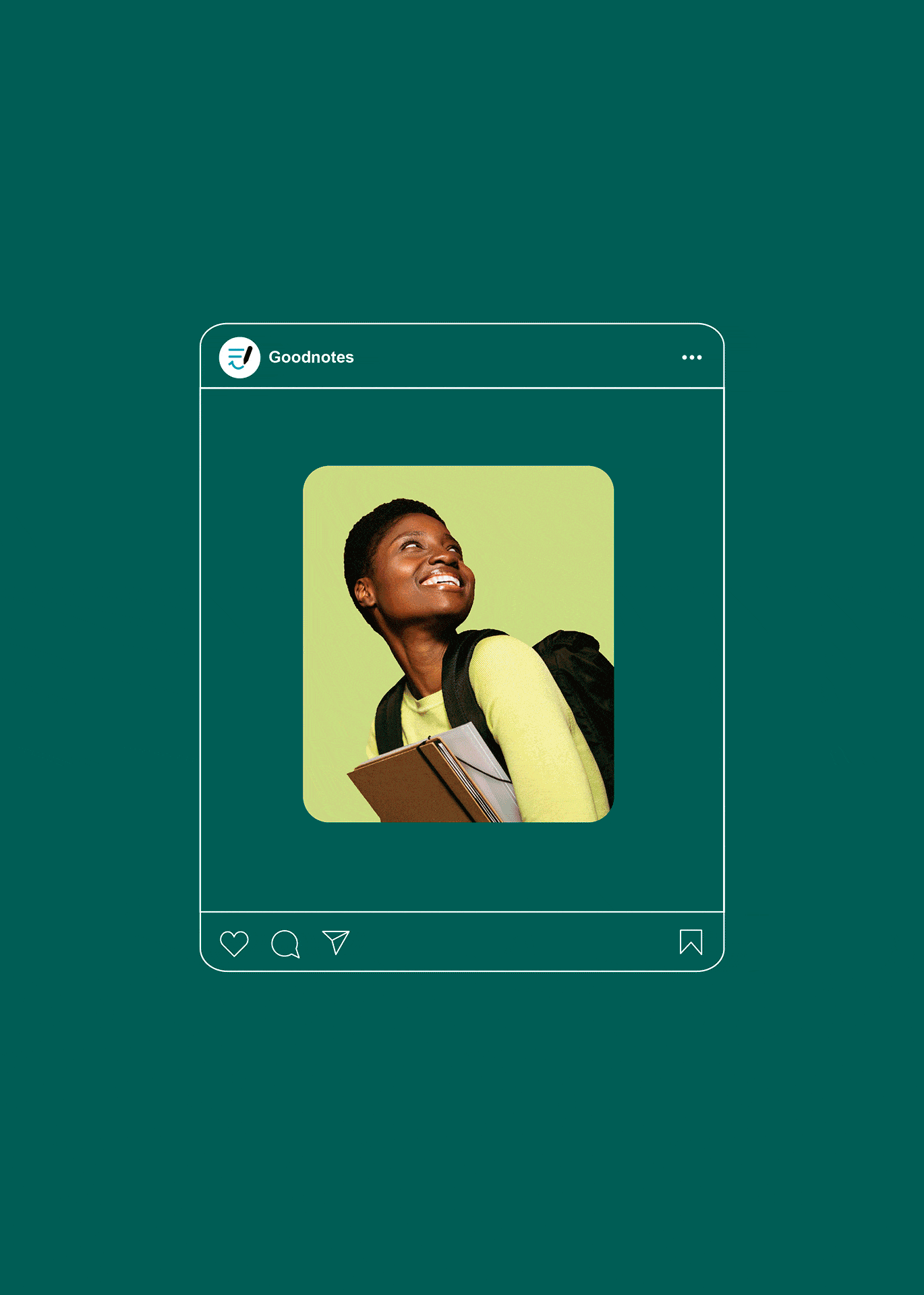 (07)
Motto Method®
/ Activation
Goodnotes 6: Notes Reimagined
To support the launch of this epic product update, Motto® also created the campaign concept "Notes Reimagined," inspired by the intelligent, intuitive, and human-centered nature of the tech. Notes Reimagined shares the vision and genius behind Goodnotes 6 and how it enhances creativity, optimizes time, and makes learning easier and more accessible for people.
(WHAT WE DID)
Campaign Concept
Web & App Copy
Press Release
Influencer Kit
Social Strategy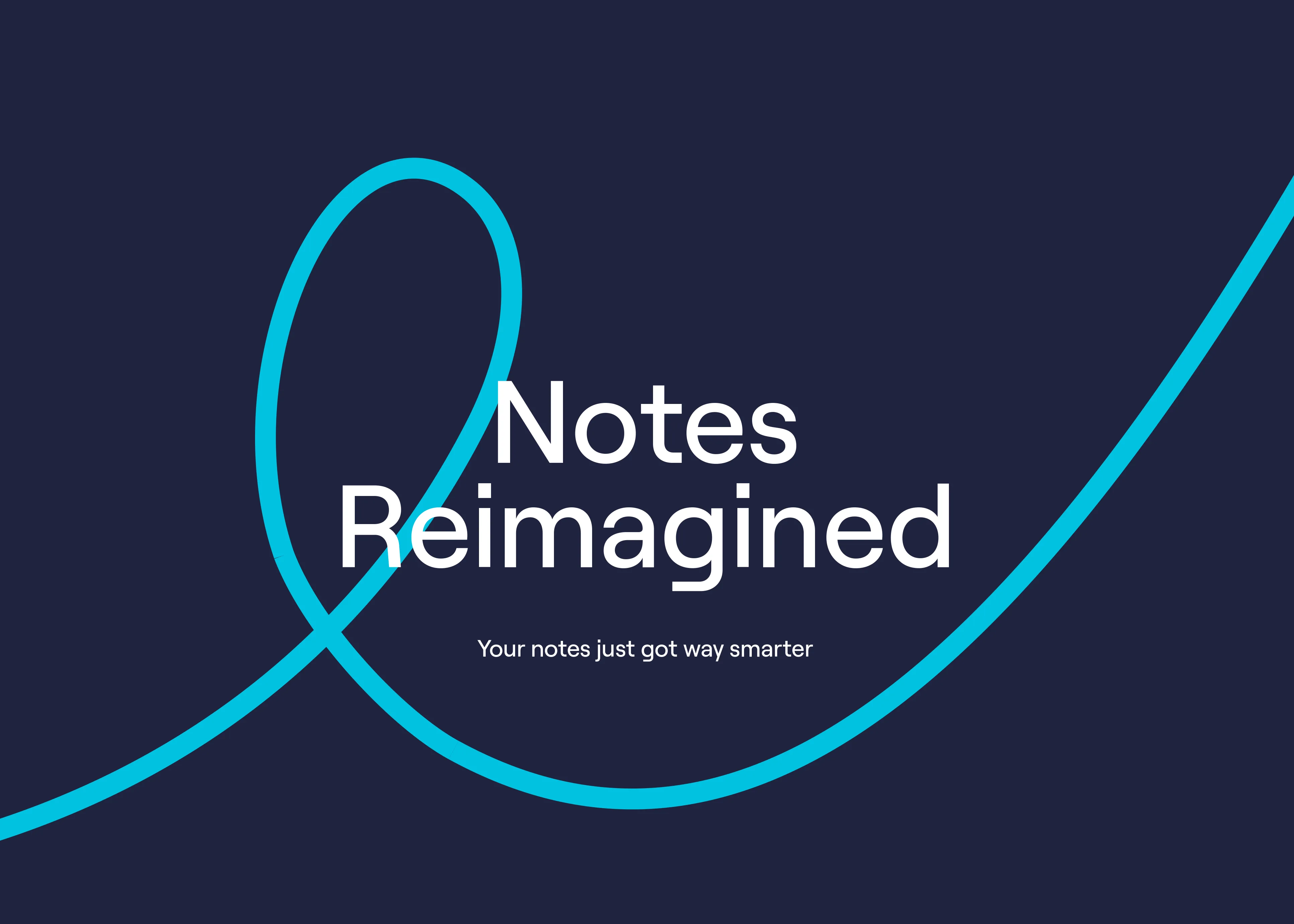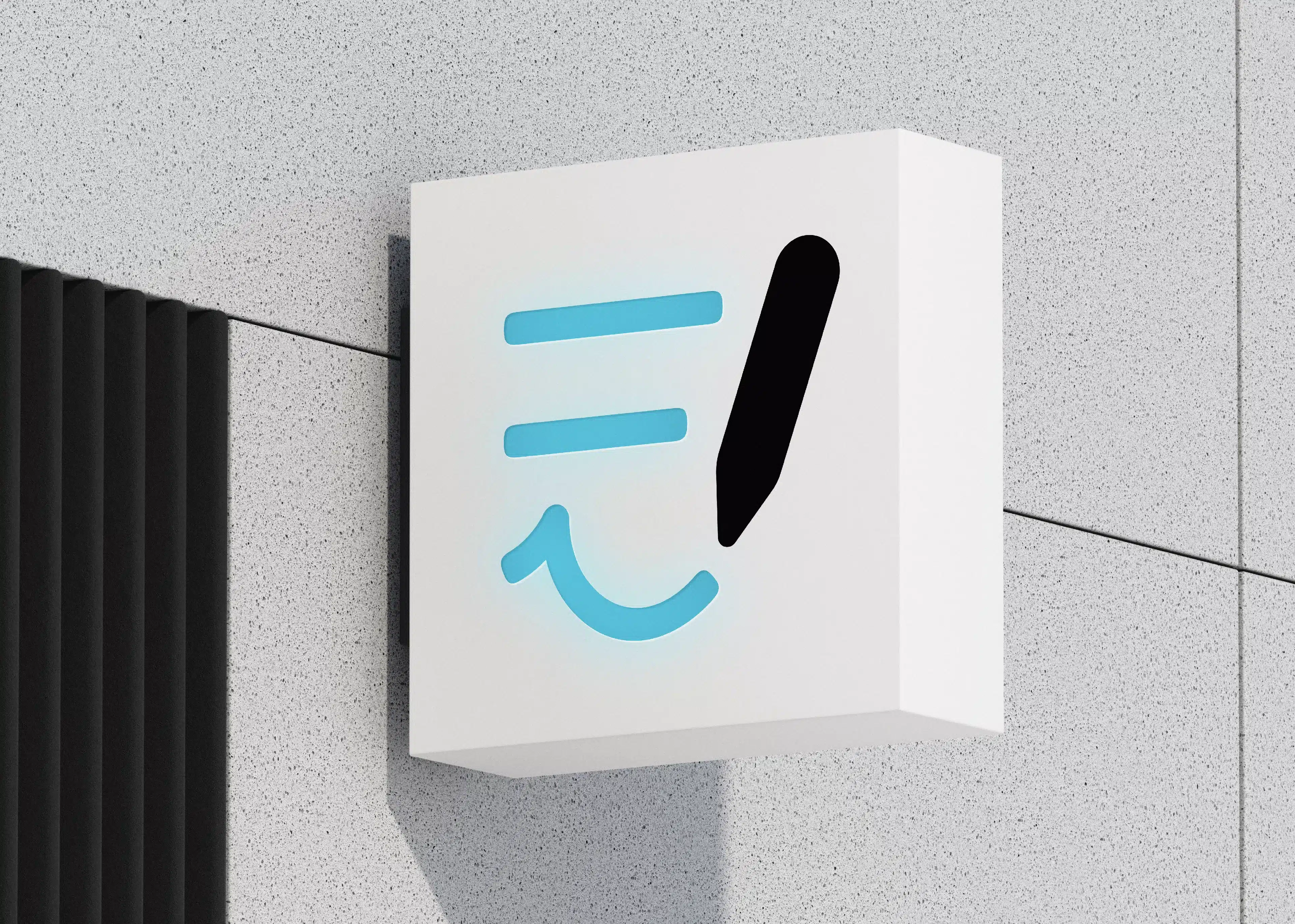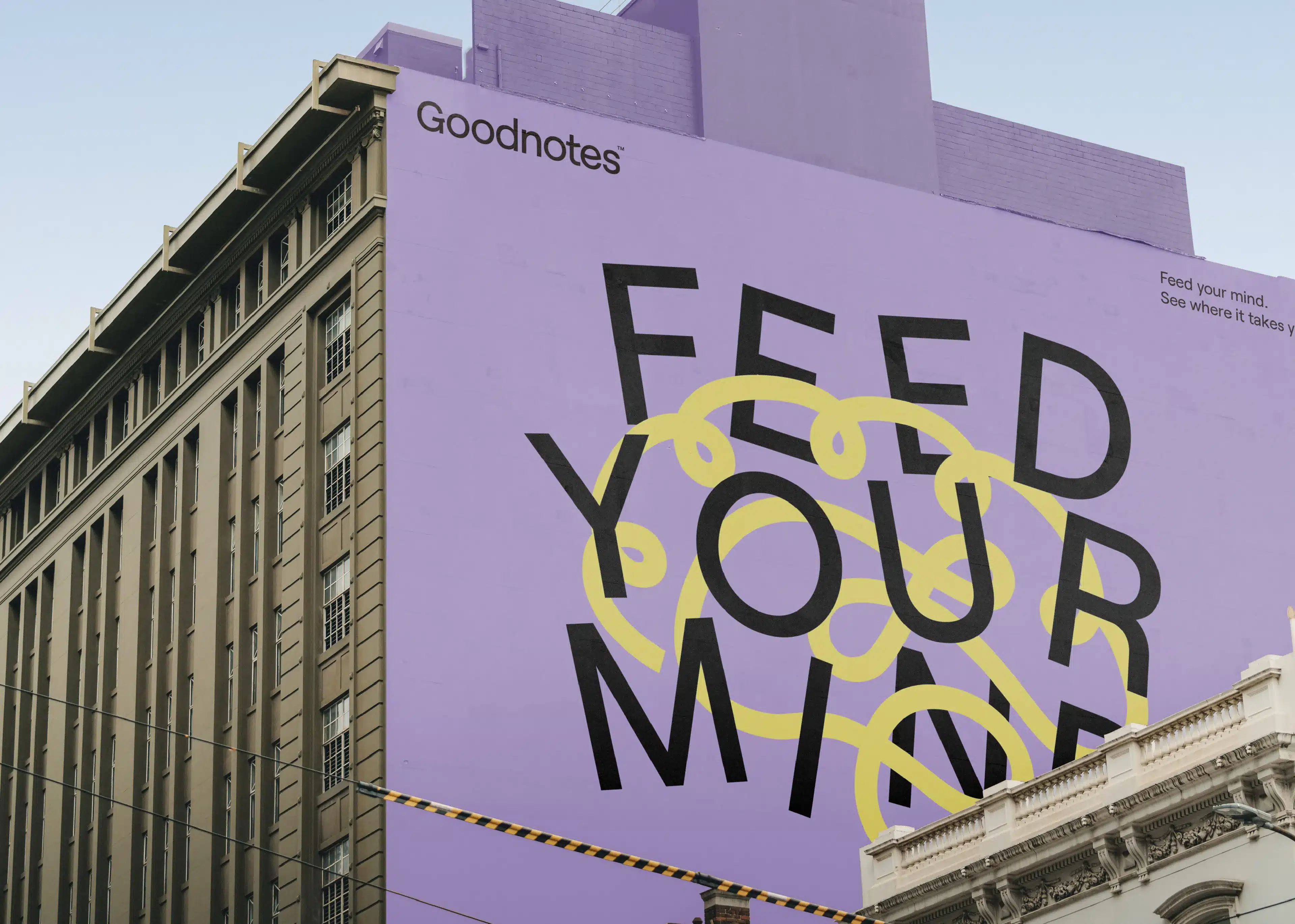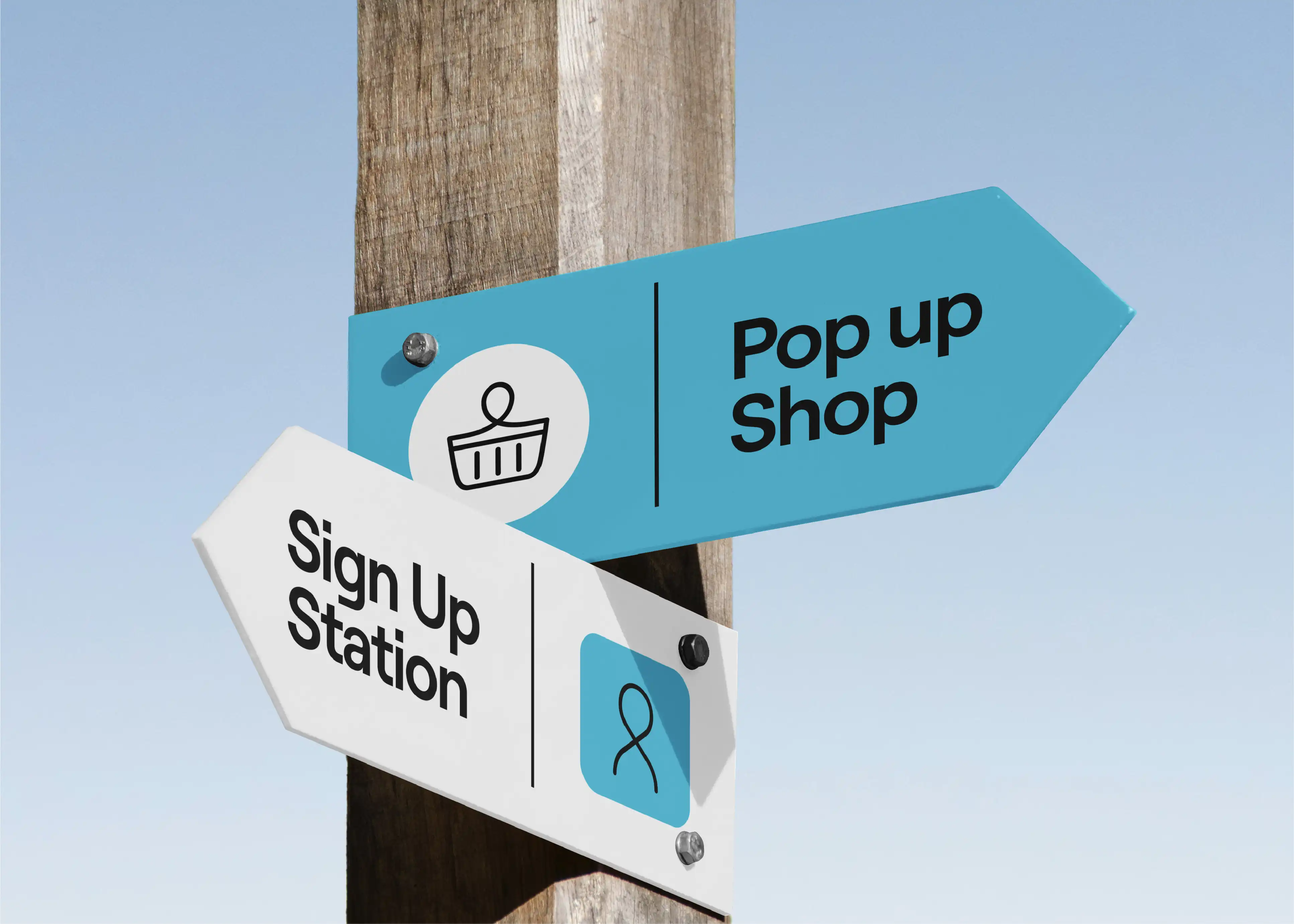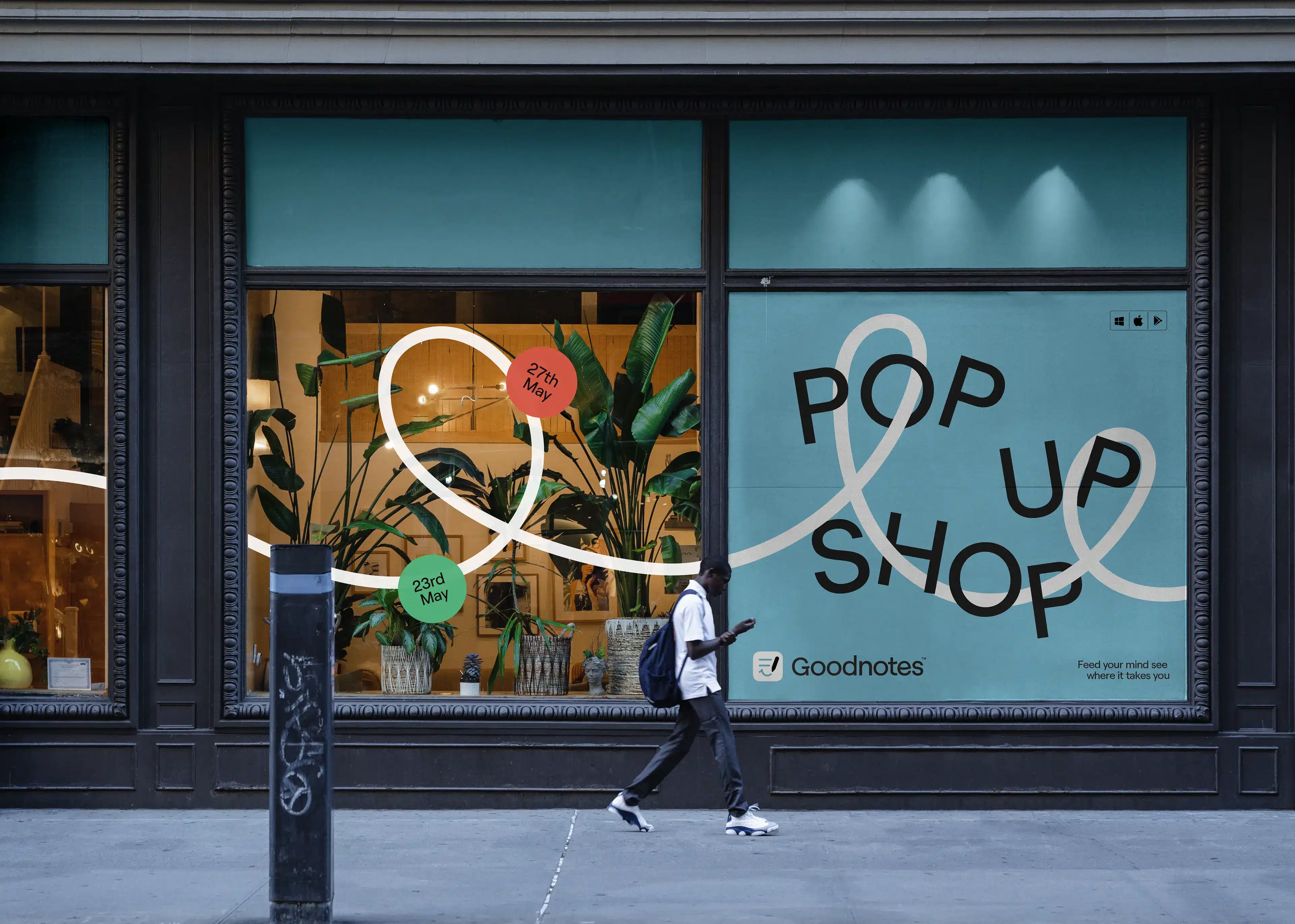 "Motto® brought an energy and enthusiasm we didn't see in other agencies and maintained that attitude throughout. Their strategy-led approach honed in on the foundations of our brand, more than we initially realized we needed to. It gave us the knowledge, direction and confidence to build striking, powerful brand elements that resonate."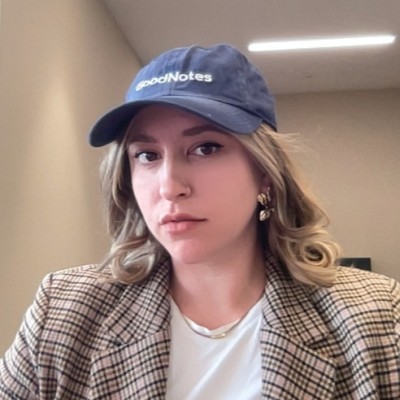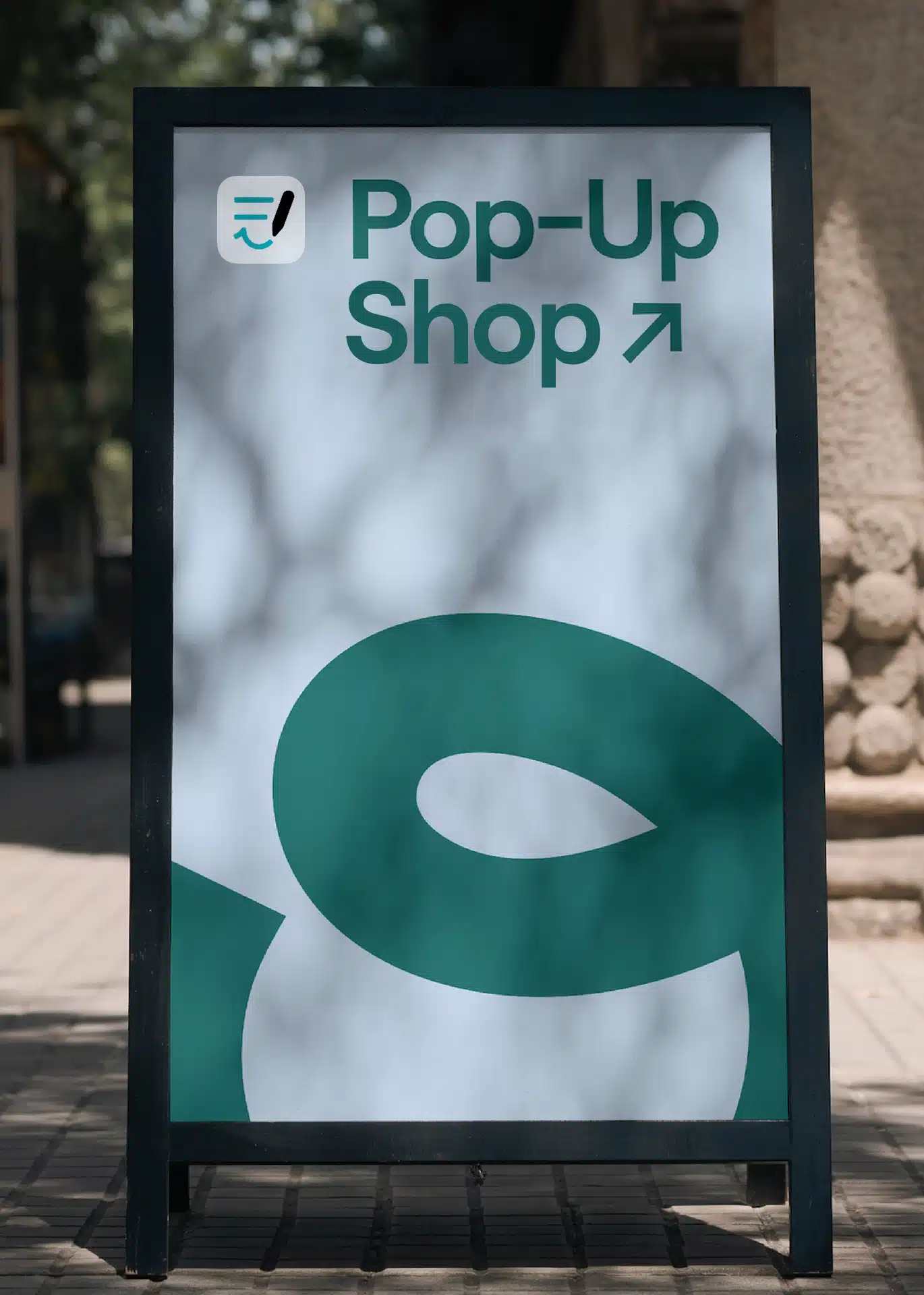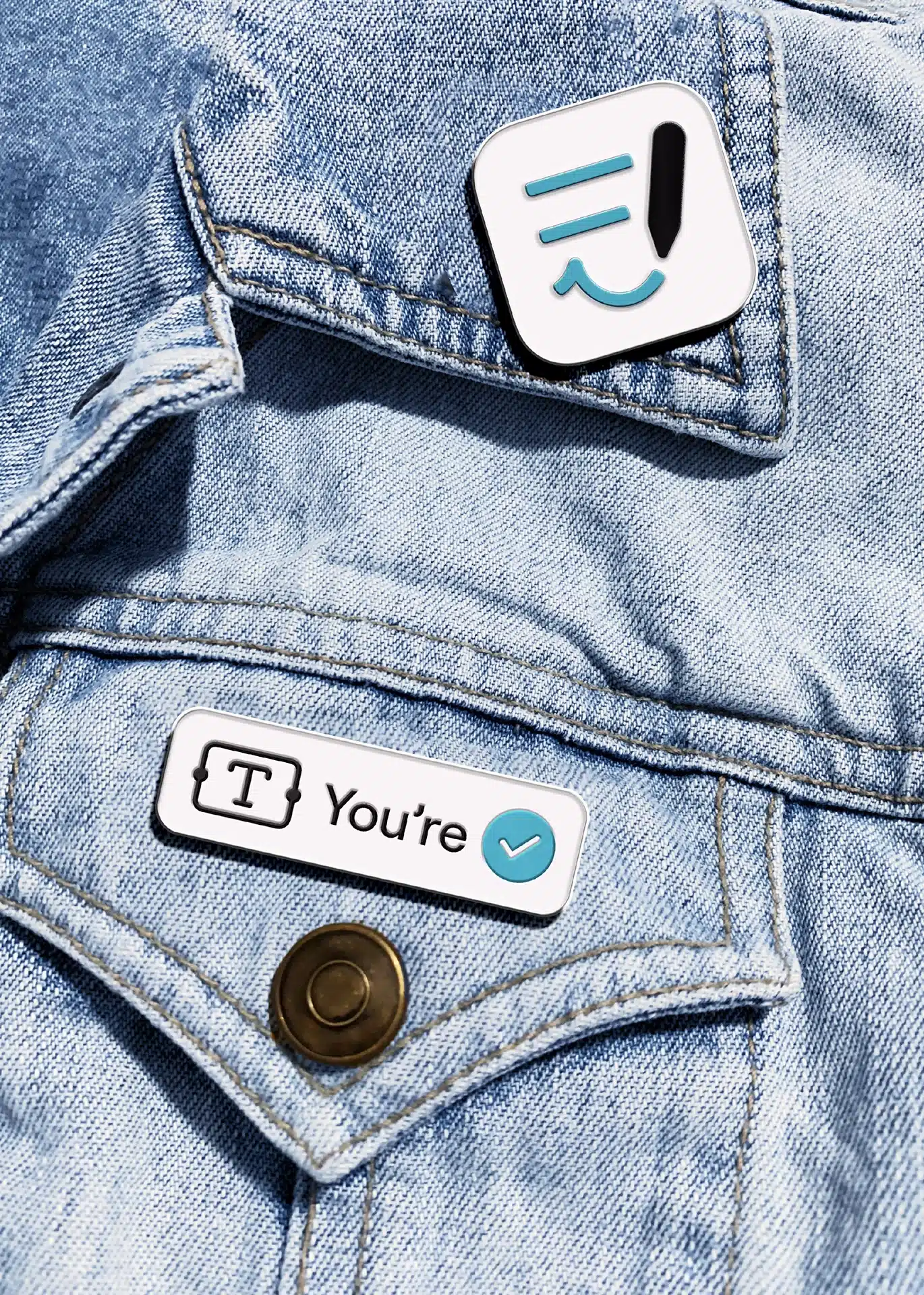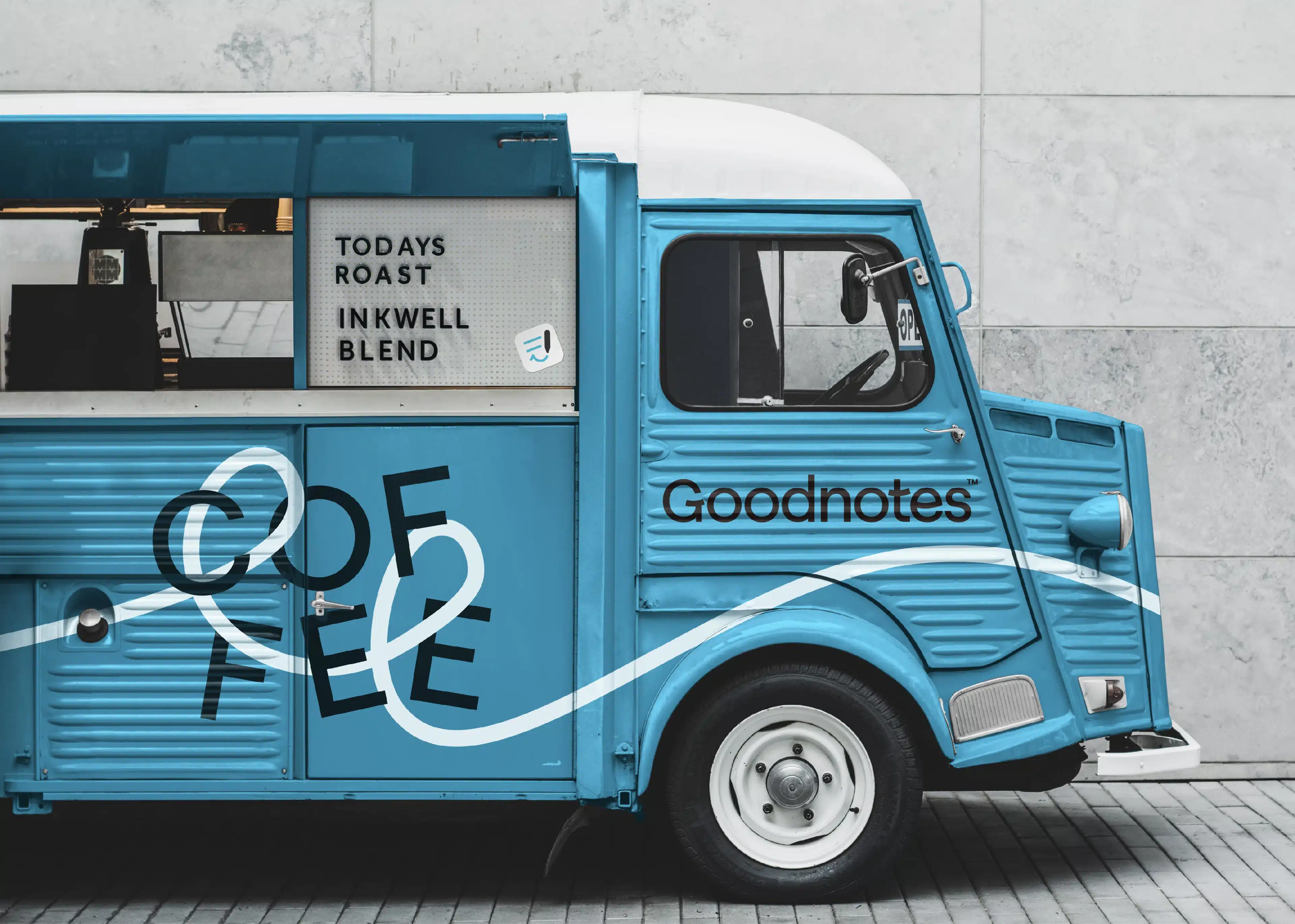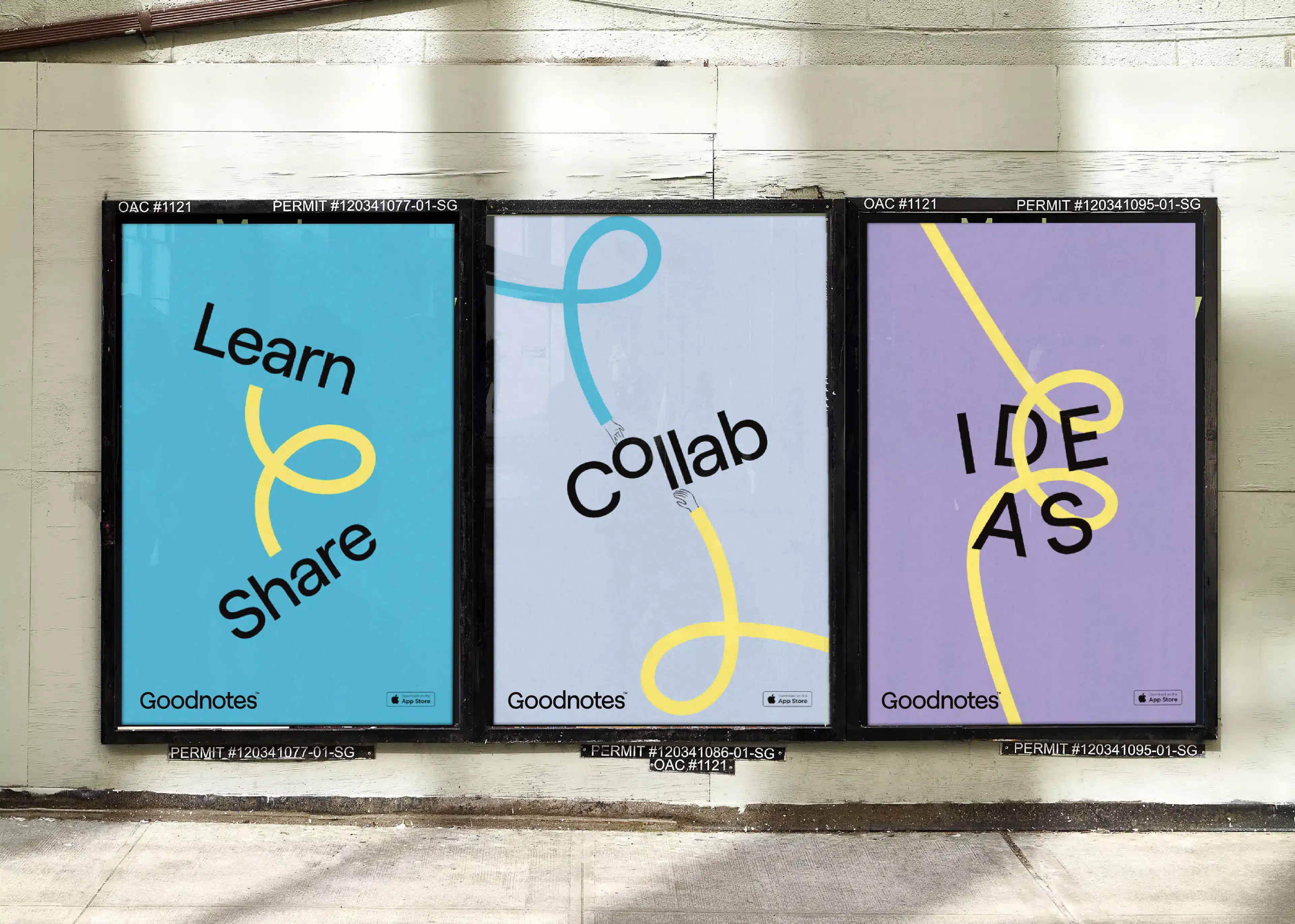 "Goodnotes unveils its rebrand alongside the launch of Goodnotes 6, featuring a refreshed brand strategy, visual identity, and updated logo to present the joy and journey of digital note-taking. Goodnotes partnered with Motto, a strategic branding company, for the rebrand."